Wrestlers portray villains or heroes as they follow a series of events that build tension and culminate in a wrestling match or series of matches. [thanks wikipedia]
So not a huge amount of people know this, but I'm wee bit of a wrestling fan.
Or more accurately, I was a wee bit of a wrestling fan. From watching 4-5 hours a week when I was 17 or 18, nearly a decade later I now only really tune in once or twice a year for novelty reasons.
As anyone who has ever had even a passing interest in pro-wrestling will attest, the annual WWE showcase Wrestlemania is a big deal and I gotta admit even I get a little bit nostalgic this time of year.
And so in honour of tonight's show, Wrestlemania XVII from the Georgia Dome in Atlanta, here's a top 5 wrestler deaths. Now this may seem a little morbid but I'm always kind of sad when I hear about these guys dying, so eh, what better way to pay tribute to them than by featuring them in a wheatln2 top 5?!
5. ANDRÉ THE GIANT
André Rene Rousimoff was born in France in 1946 with a condition called acromegaly which caused his large size. He is one of the largest wrestlers ever, weighing in at 500lb with a height of 7″4′. This is him bitch-slapping Arnold Schwarzenegger in Conan the Barbarian. He wrestled in the WWF through the late 70s and 80s, with his immortal moment coming at 1987's Wrestlemania III where a roided up Hulk Hogan body-slammed him (watch).
André died in his sleep due to congestive heart failure on the night of January 27, 1993, in a Paris hotel room. He was there to attend the funeral of his father. Sad stuff. As an act of commemoration, the WWF created their hall of fame and made him their first inductee.
4. MR. PERFECT
Curt Hennig was one of those guys who everyone hated, but loved hating. I still remember his Mr. Perfect vignettes, which presumably took 30 or 40 takes and a hell of a lot of editing, but hell a 9-year-old doesn't know that. Consider this basketball one (perfect shot at 0:56!) or this 40ft golf putt.
Aside from a big fat neck and the ability to blabber on a lot, Hennig was also an incredibly gifted technical wrestler. He wrestled in the WWF as Mr. Perfect from 1988-1996, spent time with WCW and the XWF but returned briefly to the WWF in 2002 showing up in the Royal Rumble. After a few months he was released for drunken behaviour and getting into a fight with current UFC ("real fighting") star Brock Lesnar on a plane.
On February 10, 2003, Hennig was found dead in a Florida hotel room. Acute cocaine intoxication was judged to be the cause of his death. His father later said that steroids and painkillers had contributed to his death.
3. EDDIE GUERRERO
Guerrero made his name with WCW and arrived in the WWF as a sleazy Mexican obsessed with booze, women and low-riders. Great way to kill off Latino stereo-typing.
Anyway, he was one of wrestling's most charismatic performers and both management and fans put aside his well-publicised substance abuse and drink-driving charges to make him one of the WWE's most popular characters. He worked his way up through the ranks, eventually being awarded with the WWE title at Wrestlemania XX. The landmark show closed with him and his close-personal friend Chris Benoit, who won the World title that night, celebrating in the ring amidst a shower of confetti.
On November 13, 2005, Guerrero was found unconscious in his hotel room in Minneapolis, Minnesota, by his nephew, Chavo, who was also a frequent tag-team partner. Chavo attempted CPR, but his uncle was pronounced dead when paramedics arrived on the scene. An autopsy revealed that Guerrero died as a result of acute heart failure.
2. OWEN HART
Owen was born in May 1965 into the legendary Hart family in Calgary, Alberta in Canada. He was a the youngest of 12 siblings, the most famous of which was Bret "The Hitman" Hart. Owen joined the WWF in 1991 and while he was never lucky enough to win the world title, he competed for the belt on numerous occasions and held numerous other titles. He was involved in one of the most famous rivalries of the decade between 1993 and 1995 with his brother Bret. This saw them face off at Wrestlemania X in Madison Square Garden. Owen pinned his brother, but Bret went on to defeat Yokozuna for the WWF title later in the night.
While Owen was a well-respected and popular wrestler, sadly he is best known for his death. He is one of few wrestlers in to have died in a ring. From wikipedia:
On May 23, 1999, Hart fell to his death in Kansas City, Missouri during the Over the Edge pay-per-view event. Hart was in the process of being lowered via harness and grapple line into the ring from the rafters of Kemper Arena for a match. In keeping with the Blazer's new "buffoonish superhero" character, he was to begin a dramatic entrance, being lowered to just above ring level, at which time he would act "entangled", then release himself from the safety harness and fall flat on his face for comedic effect—this necessitated the use of a quick release mechanism. Hart fell 78 feet into the ring, landing chest-first on the top rope, approximately a foot from the nearest turnbuckle, throwing him into the ring.

Hart had performed the stunt only a few times before and was worried about performing the stunt at Kemper due to the height involved. He only practiced this stunt one time before. Hart's wife Martha has suggested that, by moving around to get comfortable with both the harness and his cape on, Hart unintentionally triggered an early release. TV viewers at home did not see the incident or its aftermath—at the moment of the fall, a pre-taped vignette was being shown on the pay-per-view broadcast as well as on the monitors in the darkened arena. After, while Hart was being worked on by medical personnel inside the ring, the live event's broadcast showed only the audience. Meanwhile, WWF television announcer Jim Ross repeatedly told those watching live on pay-per-view that what had just transpired was not a wrestling angle or storyline and that Hart was hurt badly, emphasizing the seriousness of the situation. Hart was transported to Truman Medical Center in Kansas City, where he was pronounced dead on arrival.
1. CHRIS BENOIT
Benoit was born in Montreal in 1967, and trained in Stu Hart's "Dungeon" in Calgary, Alberta. He wrestled in Canada, the U.S., Japan, Mexico and Germany. Having made his name in ECW and WCW in the late 90s, he ended up in the WWF at the start of the 2000s. Despite having limited "charisma", his incredible strength, ability and intensity in the ring made him one of the most respected superstars in the WWE. His world title win at Wrestlemania XX was considered by many as a turning point in pro-wrestling, with talent and ability being rewarded instead of gimmicks or looks.
Benoit's death is one of the most surprising and shocking newstories you're likely to come across, and unlike all of the other deaths I've put together here, this one also resulted in the death of his wife and son.
On Friday June 22nd Chris Benoit killed his wife Nancy by driving a knee into her back and pulling on a cord to suffocate her. A bible was left by her body. The method of murder is earily similar to Benoit's famous finishing move, the crippler crossface.
The next morning Benoit killed his seven-year-old son Daniel. Autopsy reports showed that he was strangled to death and was more than likely unconscious having been sedated with Xanex. It is believed that Daniel Benoit suffered from a genetic condition known as Fragile X syndrome, which would have adversely affected his behaviour and mental abilities.
Chris Benoit subsequently committed suicide. His body was found hanging from a weight machine in his home gymnasium.
The day after his death, the WWE aired a three hour special featuring interviews and memories which payed tribute to his career. Hours later police announced that Benoit had in fact been responsible for the deaths. Since then the WWE has erased Chris Benoit from their history, doing their best to try to pretend he never existed.
You can learn more about the tragic Benoit family deaths here and here.
---
Sidenote 1: Alas no place for Mickey Rourke's Randy "The Ram" Robinson from Darren Aronofsky's The Wrestler (2008). The shot cuts to black right as he jumps to perform his signature RAM JAM finishing move even though he's seemingly in the middle of having a heart attack. What a pro. Here it is (bizarrely) in Spanish.
Sidenote 2: Yes, somehow The Ultimate Warrior is still alive. Look, he even clarifies his vitality in point two of his bio – "I am not dead. Nor have I ever died. Don't laugh."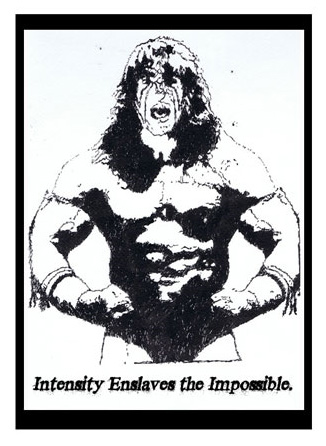 edit: went to watch Wrestlemania in the cinema in the end. But it turned out a disaster… read about it here.